because there can
be no peace
without justice
SÖK ARTIKLAR

LÄS om 50-årsdagen, 30 januari 1998! »
In 1968 The Gandhi National Memorial Fund in cooperation with the Films Division of the Government of India produced this 5 hrs. 10 min. documentary biography of Mohandas Mahatma Gandhi.
The film brings together a mass of visual record not only of 78-year life of Gandhi but also of an important period of India's history. The aim of the film being education and not entertainment, there is no attempt at dramatization of those exciting times. The story is told with an eye to truthful documentation of the main events within the limits of available documentary visual material.
Courtesy by the GandhiServe Foundation -
Mahatma Gandhi Research and Media Service.
PROTESTER MOT GM PÅ GANDHIS DÖDSDAG


Förkortningen GM står inte enbart för General Motors. Indiens befolkning kämpar en hård kamp mot genmodifierade grödor, som förgiftar och driver utfattiga bönder till självmord.

Det pågår en verklighet bortom Saab och den svenska…
27 januari 2010, 21:54
|
GANDHI-RELATERAT INDIA
SPILLD MJÖLK OCH TAPPADE SKOR
av Nafha M. Ebrahimi

Vem äger nyckeln till matförråden i den här världen? Vem är det som tillåter vissa nationer att hälla ut mjölken bland soporna och låta andra svälta ihjäl?
16 april 2009, 09:26
|
GANDHI-RELATERAT GLOBAL
Gandhi: EKONOMI - Som Om Människor Betydde Något

Denna artikel som flygblad » (pdf)


"Det behöver inte nödvändigtvis innebära framsteg för Indien att importera västvärldens elände."

I ljuset av dagens finanskriser är det inte svårt att föreställa sig hur Gandhi utvecklat de orden. Hans 139:e födelsedag den 2 oktober firas i skuggan av utökade handelsavtal mellan USA och Indien – om kärnteknologi.
1 oktober 2008, 23:48
|
GANDHI-RELATERAT GLOBAL
Gandhi and Nonviolent Conflict Resolution (Speech in Stockholm, 1996)
by Jan Viklund

Speech held at
the nonviolence project
1:st Youth Conference
21 – 23 March 1996 in Stockholm, Sweden.

THE YEAR OF 1991 was a year of dramatic changes in our global village and in my personal life. As the war in the Persian Gulf escalated, some words kept echoing in my mind:

"Villains don't fall from the skies, neither do they pop out of the ground like evil spirits. They must be seen as symptoms of society and therefore every citizen is responsible for their existence."


11 mars 2008, 18:22
|
GANDHI-RELATERAT GLOBAL
2010
januari
2009
april
2008
oktober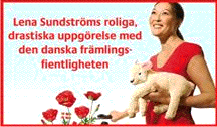 Försvarsdepartementet
Regeringsbeslut 5
2010-04-14
Övning med utländskt flygförband
S10/6029
3 sid. pdf »
Underlag:
FMV Dokumentbeteckning
10FMV3449-1:1
2010-02-24
Framställan om tillstånd enligt 10 § Tillträdesförordningen (1992:118) 11 sid. pdf »