because there can
be no peace
without justice
SÖK ARTIKLAR

London 30 January 1998: 50th Anniversary of Gandhi's Death
30 januari 2001, 10:05
|
GANDHI-RELATERAT U.K.
Profound Memorial Service
A couple of thousand in Tribute to the Mahatma


Whenever you are in doubt or when the self becomes too much with you, try the following expedient: Recall the face of the poorest and most helpless man you have ever seen and ask yourself if the step you contemplate is going to be of any use to him. Will he be able to gain anything by it? Will it restore to him control over his own life and destiny? In other words, will it lead to self-rule (Gram Swaraj) for the hungry and spritually starved millions of our countrymen?

Then you will find your doubts and yourself melting away.


We are a couple of thousand people from many different nationalities, religions and cultures who listen to Gandhi's words, expressed by the actor Ben Kingsley in St. Martin's Church in London, on the 50th Anniversary of the assassination of Gandhiji.

Other performers at this majestic Service include Saeed Jaffrey (who played Sardar Patel in the movie) and Geraldine James (Mirabehn/Madelaine Slade).

On the 30th of January every year The Gandhi Foundation arrange this Multi-Faith Service as a commemmoration and tribute to an "ordinary man who made an extra-ordinary effort in this world."

In his moving speech director Lord Richard Attenborough refer to what Gandhi had to say about poverty being the worst form of violence. We honor him the best by eridicate that suffering, where ever we find it, Attenborough points out. Surely he would have wished us today, to offer even more resistance to all the intolerance and prejudice in our societies.

The collection at the end of the Service is made in support of St. Martin's Social Care Unit, which since the First World War has provided shelter and care for the nearly two thousand homeless and dispossessed in London.

To greater man to be glorofied

We are not here just to admire Gandhi, emphazise Attenborough. When we recieved permission from Prime Minister Pandit Nehru to begin the filmproduction in India, I specifically recall his last words when we parted: Richard, he said, whatever you do – do not deify him! He was too greater man to be deifyed!




Your film was the sparkle of inspiration, that brought me here tonight…
Jan Viklund, editor of Gandhi TODAY, in a meeting with Lord Richard Attenborough.

The Gandhi Foundation Peace Award

This year was also the first time for The Gandhi Foundation Peace Award to be presented, a statuette donated largely by Diana Schumacher on behalf of The Schumacher Society. (Dr. E.F.Schumacher, economist , philosopher. His special contribution was to explain that the gigantism of modern economic system tends to diminish the well-being of individuals and communities, as well as the health and diversity of the natural world. The Society was founded after Schumacher's death in 1977 and actively promotes human scale, decentralised economic and educational developments, based on sound ecological and spiritual values.)

The Peace Award was presented after the Service, at a special Reception at the South African House.

The first recipient was Eirwen Harbottle, on behalf of her late husband Brigadier Michael Harbottle who died last year after a long life in the service of Peace. His commitment started the day he took an early retirement from the UN Peacekeeping Force in Cyprus. It was there he suddenly realised that peacekeeping by the UN should not merely be the prevention of war. Far more than a suspension of hostilities and maintaining a truce, peace actually means building trust and confidence through mutual understanding. He went on to develop his theories on behalf of the International Peace Academy and in 1978 edited the Peacekeeper's Handbook, a practical manual which has been the definitive guide for UN peacekeepers ever since.

In 1980 Michael became General Secretary of the World Disarmament Campaign in Britain. This earned him much criticism from former colleagues and friends, particularly among his military and political associates, who even suggested that he had communist leanings.

Undaunted, in 1982 Michael went on to found Generals for Peace and Disarmament enabling a constructive dialouge between retired NATO Generals such as himself and their counterparts in the Warsaw Treaty Countries. He became a spokesman for the anti-nuclear lobby, and like Lord Mountbatten in his famous Strasbourg speech, pointed out that in the event of nuclear warfare, there would be no victors, only total human and enviromental destruction. Nuclear weapons served no useful military purpose; they were political weapons and the hundreds of billions of dollars spent annually on their manufacture or improvement, had no ethical justification in a world in which two-thirds of the population live in hunger and poverty. In 1986, the International Year of Peace, the group of Generals was surprisingly accredited the UN award 'Messengers for Peace'.

Michaels vision was to create within the armed forces of the world what he called "a new philosophy of service". One which, in addition to training for the defence of their countries, their duties would include, quite naturally, UN peacekeeping, disaster relief and enviromental protection. And to see a reallocation of financial recources away from instruments of war and directed instead to the construction of a fair society for all.

Eirwen is determined to carry on the work of her husband. They met in Cyprus in the 1960's, where Eirwen for many years had been a well-known radio news-caster and TV presenter of the Cyprus Broadcasting Corporation. They were to become a hardworking and inspired team throughout the years and in 1983 they together founded the Centre for International Peacebuilding.

Brave decision to present the Award to a soldier

In her speech at the Reception she also said she applauded the courage of the Foundation to present this Award to a soldier. With a twinkle in her eye she explained: "It is often hard for people in what is called the peace movement, to accept and understand that some military men can – and do – work in nonviolent ways in order to create peace."


ÄLDRE ARTIKLAR...»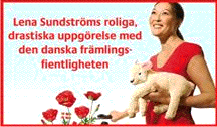 Försvarsdepartementet
Regeringsbeslut 5
2010-04-14
Övning med utländskt flygförband
S10/6029
3 sid. pdf »
Underlag:
FMV Dokumentbeteckning
10FMV3449-1:1
2010-02-24
Framställan om tillstånd enligt 10 § Tillträdesförordningen (1992:118) 11 sid. pdf »