because there can
be no peace
without justice
SÖK ARTIKLAR

Patriotic Dissent
4 mars 2002, 11:27
|
ARTIKLAR
Even before they formally launched their joint effort, the members of Peaceful Tomorrows—called unexpectedly to this work from roles as varied as nurse practitioner, TV writer, retired small businesswoman and political science professor—have shown a knack for getting their message across. They've gotten local press in their hometowns, and several have written powerful essays that have circulated widely on the Internet. In perhaps their most compelling gesture so far, some even traveled to Afghanistan to meet with families devastated by the bombing. CNN covered their call for the US government to provide aid for the war victims they encountered on their trip, both people like themselves and grape farmers forced to abandon their land for fear of harvesting unexploded cluster bombs, as well as new Afghan widows who send their children to beg.


Peaceful Tomorrows wants the US government to appropriate $20 million—less, they say, than the cost of one day's bombing, and far below the sum raised to help September 11 victims' families—for a study of the bombing campaign's impact on Afghan civilians and for a fund to to help the victims' families.


They've met with receptive lawmakers like New York Senator Charles Schumer and Florida Representative Carrie Meeks, but they were advised that only President Bush could create the fund quickly. So the group sent Bush a giant Valentine requesting an audience.


Fortunately, the group members have compelling personal stories and areas of expertise well suited to the task at hand.


Robin Theurkauf, a mother of three boys who lost her husband, Tom, a financial analyst, at the World Trade Center, also happens to be a newly minted PhD and lecturer on international relations at Yale who wrote her dissertation on international criminal law.


"It's a huge irony for me," Theurkauf said. "My husband is the victim of [one of the] biggest crimes against humanity ever, and this is my field of interest." She considers the attack an international crime and believes military retaliation is only going to exacerbate US insecurity. "We're making recruiting for the next wave of terrorists easier, I think," Theurkauf said. She suggests that Americans press their government to recognize and participate in the new International Criminal Court, which it so far has refused to do.


And like the others in Peaceful Tomorrows—named for Martin Luther King Jr.'s quote, "Wars are poor chisels for carving out peaceful tomorrows"—she resents being invoked as an excuse for war. "It seemed like such a horrific thing, the idea that someone would do this for me to someone else."

Peaceful Tomorrows is not yet funded, but three of the family members have already signed on as full-time regional coordinators. David Potorti, who will run the East Coast office, says their primary goal is to make Americans aware of their options.


"We just want to give the American people a dialogue that they've been denied in this rush to war," said Potorti, a former writer of TV promotions whose brother, Jim, died at the Trade Center, "because we really haven't had a chance to explore alternatives and other ways of speaking to each other aside from dropping bombs."
Potorti has already found that people in unlikely places are ready to listen. Not too long after the attacks, he was a guest on The O'Reilly Factor, a right-wing talk show. As soon as Potorti hung up, he received two calls from men in nearby North Carolina towns. The first said he agreed with Potorti and could not, as a Christian, support the taking of innocent life. The second, who also lost a relative, said he disagreed with Potorti's position but appreciated his standing up for his beliefs.


"Just the fact that two of those people [O'Reilly's listeners] could be so reasonable and nice makes me feel that there's hope," Potorti said.
ÄLDRE ARTIKLAR...»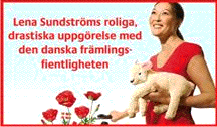 Försvarsdepartementet
Regeringsbeslut 5
2010-04-14
Övning med utländskt flygförband
S10/6029
3 sid. pdf »
Underlag:
FMV Dokumentbeteckning
10FMV3449-1:1
2010-02-24
Framställan om tillstånd enligt 10 § Tillträdesförordningen (1992:118) 11 sid. pdf »