TPP: Victory for Grassroots as Fast Track Goes Down in Crucial Senate Vote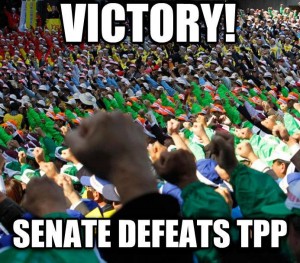 CommonDreams, May 12, 2015
'We know the forces pushing the job-killing TPP won't stop here, and they should know, neither will we,' says Democracy for America
Update (3 pm):
In what was immediately heralded as a victory for the grassroots, Senate Democrats on Tuesday stymied President Barack Obama's corporate-driven trade agenda by voting to prevent the chamber from taking up Fast Track legislation.
According to news reports, a cloture motion to cut off a filibuster and proceed to debate fell short of the 60 votes necessary to pass. Sen. Tom Carper, of Delaware, was the only Democrat to vote yes.
Civil society groups lauded Tuesday's outcome and what it could mean for future trade votes.
"The Fast Track train went off the rails today," cheered Lori Wallach, director of Public Citizen's Global Trade Watch division. "The U.S. Senate vote was supposed to generate momentum for Fast Track in the U.S. House of Representatives, where it's in deep trouble, with almost every House Democrats and a significant bloc of GOP opposing it."
Still, now is not the time for the grassroots to become complacent, warned Democracy for America executive director Charles Chamberlain in a statement released just after the vote.
"While we celebrate today's failed Fast Track vote for the job-killing Trans-Pacific Partnership, the hundreds of thousands of grassroots activists who have united behind Senators Warren, Brown and Sanders to defeat the TPP will not rest until it's dead, buried, and covered with six-inches of concrete," Chamberlain said. "Today, the army of corporate executives and industry lobbyists who wrote the Trans-Pacific Partnership by and for themselves failed to secure support for the Fast Track legislation they know they need to ram their bad trade deal through Congress."
However, he added, "We know the forces pushing the job-killing TPP won't stop here, and they should know, neither will we."
Other Fast Track opponents expressed similar sentiments on Twitter: