Why We Need To Revisit Rumi And Gandhiji
Editorial by Sumit Paul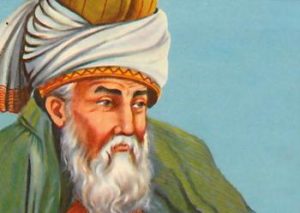 Standing at this juncture of sub-continental history, when two neighbouring countries, India and Pakistan, are looking at each other with daggers drawn, it'll be instructive to remember Jalaluddin Rumi and M K Gandhi whose birthdays fall on September 30 and October 2 respectively. Coleman Barks wrote in his book 'Rumi' that humankind is in urgent need of re-reading Gandhi and Rumi's irenic and pacifist philosophies.
Gandhi first read Rumi at the age of 26 and his poetry, translated by the English scholar Swanton, stayed with him till his last breath. Rumi's great thought, 'Choon jang ashad ifnaaz aize khoon-e-ifraad' — 'A battle is death's dance macabre' — moved Gandhi intensely. So too when he read Rumi's words in 'Ramz-e-Kaaynaat' – 'Passivity at any price. Suffer dishonour and disgrace but never resort to arms. Be bullied, be outraged, be killed. But do not kill'. This line is sometimes (erroneously) attributed to the Buddha.
We indeed need to read and understand these two completely non-violent and peace-loving men who changed the way we look at conflict.
Gandhi wrote to Allama Iqbal in 1930, quoting Rumi, ' Why we shed blood of our brethren for a piece of land, religion and money?' Iqbal wrote back, quoting Rumi, 'This existence of mine on earth depends upon the lives of my fellow beings. I exist because of you and vice versa.'
The interdependence of humankind was first proclaimed by Rumi and endorsed by Gandhi. Rumi's 'Go beyond your own needs and merge yourself into the ocean of compassion' brought tears to Gandhi's eyes.
Elsewhere, Rumi writes, 'Put your swords back in the scabbards and embrace even your enemies, for, love conquers all.' Gandhi said the same thing when he wrote to Nehru that the British must leave the country not as enemies but as friends. Such lofty philosophy is not difficult to follow, provided we elevate ourselves to higher levels.
'Farishat boodam munhir zaat, insaan ferazat aseet ' — Strive to become angels and spread love like fragrance' wrote Rumi in Masnavi. We have all become too violent and blood-thirsty. The soothing philosophies of Gandhi and Rumi can uplift our souls and help make this world a place free of bloodshed and violence.
When Maulana Abul Kalam Azad sent a sublime thought from Rumi's book, 'Parvaaz-e-ruhaniyat' (Flight of spirituality), Gandhi immediately jotted it down in his diary and called that his daily prayer. The thought was: 'The moment my sword was about to behead my "enemy", it dawned on me that he was my brother and the sword fell from my hand.'
Gandhi drew daily inspiration from the Bhagwad Gita, the 'Sermon on the Mount' and Rumi's 'Guldasta'. He wondered, if war-mongers like Hitler and Mussolini ever read and understood Rumi, the world would never have witnessed the two horrific World Wars and numerous other conflicts. Gandhi wrote to his Scottish friend and Christian missionary in India 'Deenbandhu' (friend of the poor) Charles Freer Andrews, ' The more I read Rumi, the more I believe in the power and capacity of human co-existence. It's a potential possibility, not a pipe-dream.' Let's rejoice in such sublime ideas of non-violence and believe that the power of love overcome violence.
Finally, it's an irony of fate that Rumi was born in Balkh (Afghanistan), which is today a hotbed of violence, bloodshed and cruelty. Let's all shun war and work for peace through love.