Turning Backs on Despair, Richest Nations Doing Least for World's Refugees
'Poorer countries are shouldering the duty of protecting refugees…but many richer countries are doing next to nothing.'
The world's six wealthiest nations are "turning their backs" on refugees, hosting less than nine percent of those who have fled their homes due to war and violence and leaving poorer countries to shoulder the burden, a damning new report from Oxfam reveals.
According
to the United Nations Refugee Agency, the number of displaced people around the world has surpassed 65 million—an "unprecedented" milestone "that represents unacceptable human suffering."
Yet the Oxfam briefing released Monday shows that the United States, China, France, Germany, Japan, and the United Kingdom—which together account for more than half of the global economy—have taken in just 8.88 percent of those 65 million.
Meanwhile, though they account for less than two percent of the cumulative world GDP, Jordan, Turkey, Pakistan, Lebanon, South Africa, and the Occupied Palestinian Territory host over 50 percent of the world's refugees, the report finds.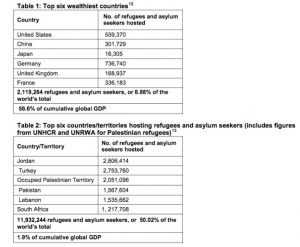 "It is shameful so many governments are turning their backs on the suffering of millions of vulnerable people who have fled their homes and are often risking their lives to reach safety," said Winnie Byanyima, executive director of Oxfam International. "Poorer countries are shouldering the duty of protecting refugees when it should be a shared responsibility, but many richer countries are doing next to nothing."
Citing its own research on one of the main regional drivers of the so-called refugee crisis, the Oxfam report notes that "some governments have not only given their 'fair share' of aid for those whose lives have been blighted by Syria's terrible conflict, but also welcomed their fair share of Syrian refugees to their countries."
"But that is the honorable exception to 2016's far wider, more dangerous trend of governments turning their backs on the world's most vulnerable people and failing to uphold the spirit of the international law they claim to champion," the analysis continues. "And not all governments that have welcomed large numbers of refugees in the past are willing to continue doing so or to uphold the right to claim asylum."
The Oxfam report comes ahead of two major summits about refugees and migrants in New York in September. To that end, the organization has launched a petition demanding:
All countries must uphold the fundamental human rights of all people on the move and uphold and implement the principles and standards of the 1951 Refugee Convention and 1967 Protocol;
Rich countries must welcome many more people seeking refuge and asylum;
All refugee-hosting countries must provide a dignified future—including the right to work and education—to everyone trapped in long-term displacement;
Rich countries must give more help to the developing countries who host the vast majority of refugees and displaced people.
"Too many people who have taken treacherous journeys to reach safety end up living in degrading situations littered with abuse, hostility and discrimination, and too few governments are doing anywhere near enough to help or protect them," Byanyima said. "We must stand as one with the millions of people who have been forced to flee as they need our help."