Afghan Peace Volunteers' Street Kids Program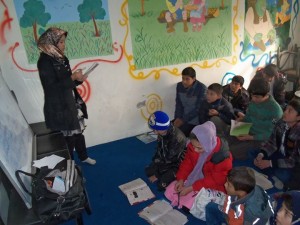 The Street Kids Program consists of:
1)  classes held at the Borderfree Nonviolence Community Centre in Kabul Afghanistan
2) monthly rations of rice and cooking oil, which are given to the students to supplement their family needs.
The Afghan Peace Volunteers who work as coordinators in the Street Kids Team are Zekerullah, Zarghuna, Farzana, Hadisa, Barath Khan, Bismillah and Shari
f. These volunteers teach the street kids, who attend Dari and Math literacy classes as well lessons on nonviolence.
The APV tutor the children so they can catch up academically and return to school. The kids in the program may have been formerly engaged in vending resale items on the street, shining shoes, sweeping and the like. The small amount of income generated by their efforts are so needed by the families that the children must do this work rather than go to school.
Monthly rations of rice and cooking oil are designed to replace this income. The rations are conditionally given to families on the promise that their young children will attend school and attend the supplemental classes offered at the APV Borderfree Centre.
Related Articles:
Street Kids Update by Maya Evans
A Teacher in Kabul by Kathy Kelly
Sherri Maurin's Kabul diary-Monday-August 11th by Sherri Maurins
Afghan Street Children Beg for Change by Kathy Kelly
Love Letters from Kabul on Fairer Livelihoods by Abdulhai,Samia and Hakim
Whatever Happened to Women and Children First by Johnny Barber
The Darkness Approaches a Light Shines Bright by Johnny Barber