Indian College Turns Rural Women into Engineers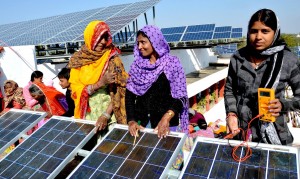 By Rupam Jain Nair
It gives no degrees and the teachers and pupils often do not share a common language, but India's Barefoot College has been transforming the lives of rural women for four decades.
Located in Tilonia village, 100 kilometres (60 miles) from the capital of the western desert state of Rajasthan, Barefoot is a collection of environmentally friendly dome-shape buildings.
Inside, about a dozen teachers give classes in subjects ranging from the basics of solar engineering, dentistry, mechanics or public health, to radio DJing.
All the pupils sitting on the floor or leaning on old desks are women, some of them illiterate grandmothers from remote villages. Almost everyone is poor, many are unable to read or write, and some come from as far away as Tanzania.
Barefoot was started by social entrepreneur Sanjit "Bunker" Roy in 1972 and has been breaking taboos ever since, educating women who are often second-class citizens discouraged from getting an education.
Magan Kanwar, who teaches solar engineering, remembers being told by her father-in-law she should focus on knitting sweaters rather than dreaming of attending the school.
"But I just wanted to do something more than cooking and producing babies. This college gave me a chance to find the purpose of my life," she told AFP.